Recommended by Essex Libraries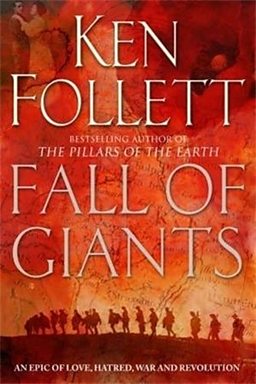 Fall of Giants follows the fates of five interrelated families – American, German, Russian, English and Welsh – as they move through the world-shaking dramas of the First World War, the Russian Revolution, and the struggle for women's suffrage.
Thirteen-year-old Billy Williams enters a man's world in the Welsh mining pits… Gus Dewar, an American law student rejected in love, finds a surprising new career in Woodrow Wilson's White House… two orphaned Russian brothers, Grigori and Lev Peshkov, embark on radically different paths half a world apart when their plan to emigrate to America falls afoul of war, conscription and revolution… Billy's sister, Ethel, a housekeeper for the aristocratic Fitzherberts, takes a fateful step above her station, while Lady Maud Fitzherbert herself crosses deep into forbidden territory when she falls in love with Walter von Ulrich, a spy at the German Embassy in London…
These characters and many others find their lives inextricably entangled as, in a saga of unfolding drama and intriguing complexity, Fall of Giants moves seamlessly from Washington to St. Petersburg, from the dirt and danger of a coal mine to the glittering chandeliers of a palace, from the corridors of power to the bedrooms of the mighty.
Suffragette Girl - Margaret Dickinson
When Florrie Maltby defies her father by refusing to marry Gervase Richards, she sets off a chain of events that will alter her life. Instead she goes to London and becomes involved with the suffragette movement. She's imprisoned for her militant actions, and goes on hunger strike. With her health deteriorating, there is one person who can save her - Gervase.
After a brief stay in the countryside to recuperate, Florrie returns to London to continue her fight for women's rights. Only the outbreak of the Great War puts a halt to her activities. It is when James, her younger brother, is shamed by their father into volunteering, that Florrie enlists as a nurse and is sent to the Front. Amidst the fear and horror of the hospital close to the trenches, she finds love. But when her beloved brother is accused of desertion, help comes from a very unexpected source.
Source : http://www.bbc.co.uk/programmes/articles/3PQTYY9D9tt17v1xq00mcQ9/books-about-womens-suffrage-that-get-our-vote